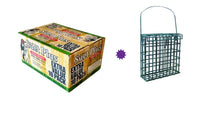 St Albans Bay 10 Pack Suet + 1 Suet Feeder 
Suet Feeder size 5"X5"X2" by Wildlife Sciences features easy open & hanger handle, coated dark green.
10 Pack Extra Value includes 10 individually wrapped cakes of wild bird suet.
Suet will attract many types of wild birds like chickadee, nuthatch, titmice, woodpeckers and more!
Tip: refrigerate before use for easy handling especially in warm conditions
Features:
Easy-Open Wrappers
Superior High Melt Point Formula
Eco-Friendly Packaging
Manufactured in the USA by Wildlife Sciences
weighs 6lbs, 14oz. / 3.12 kg net
Ingredients:

rendered beef suet

cracked corn

millet

black oil sunflower seed