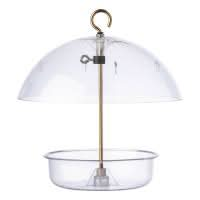 10 in. Seed Saver Multi-Use Dish Bird Feeder

The X-1 Seed Saver is an ideal feeder for offering a variety of food like seed, suet, fruit, or mealworms. Multiple foods will attract multiple bird species.
The 10 in. height adjustable domed cover allows for bird selectivity and protects the food and feeding birds from the elements.
The clear UV stabilized polycarbonate construction will reliably hold up to the elements.
The deep dish has 1 lb. food capacity with drainage holes to keep food fresh. Hangs by the brass hanging rod or pole mounts via the threaded base.
The open feeder tray makes feeding and cleaning a breeze.
Backed by Droll Yankees Lifetime Warranty Against Squirrel Damage and proudly made in the USA.